Description
Feel closer to the rock
An aggressively shaped shoe providing superb responsiveness, Indalo gives you maximum control over micro-edges and small holds while providing full sensitivity and precision in friction and smearing movements.
Rigidity
More rigid and structured shoes,more power can be transmitted to the rock.
Sensitivity
The more sensitive a shoe is, the more information gets transferred to the climber about the shape and the characteristics of the foot holds , giving a sensation of closer contact with the rock..
Foot width response
This is the capacity of the shoe to adapt to the width of your foot. This capacity is not only determinate by the width of the sole, in some cases a shoe with a narrow sole displays a great capacity to adapt to a wider foot.
DRAXTOR
Tenaya's patented closure system is unique. It's so precise, so quick and easy to use and provides independent tension control over different parts of the shoe. Once the user has configured the system to their specific requirements they will never need to waste time on adjustment again.
SXR Dynamics
Technology that increases the dynamic response of the shoe improving its ability to adapt to different rock shapes and greater precision and comfort.
RBRX
Technology that improves the balance between all the performance of the shoe achieving a greater range of response and greater performance in very different situations.
Advantages
Super sticky rubber covers the upper part of the toe-box and instep, providing both increased protection against abrasion and superior performance when toe-hooking.
Lightweight and breathable full bellows tongue that adapts to the anatomy of the foot and creates a comfortable barrier between the elastic on the shoe's instep and the skin.
Two-part sole increases capacity to adapt to the form of the rock.
Glove-like fit.
Precision fit and design holds the arch and heel of the foot snugly and securely.
Its design and applied technology contribute to release pressure from the toes for a greater climbing shoe control.
Recommended use
Vertical and overhanging routes. Bouldering.
Data Sheet
Closure System Velcro (patented Draxtor system)
Tongue Five-layer, highly breathable
Lining TXT treated cotton
Insole 2D multi-layer Stretchtex
Midsole Double midsole GI 1.8 y TST 150
Sole Vibram XS Grip 3.5 mm
Sizes 1-13 (UK) with half sizes
The perfect balance.
Designed to put more resources on your foot, you will be surprised by its wide range of response and above all its ability to provide solutions when using all types of difficult footholds.
With a behavior that is neither too soft nor too structured, Indalo has a perfect balance between all its features and offers the best performance both in bouldering and on vertical and overhanging routes.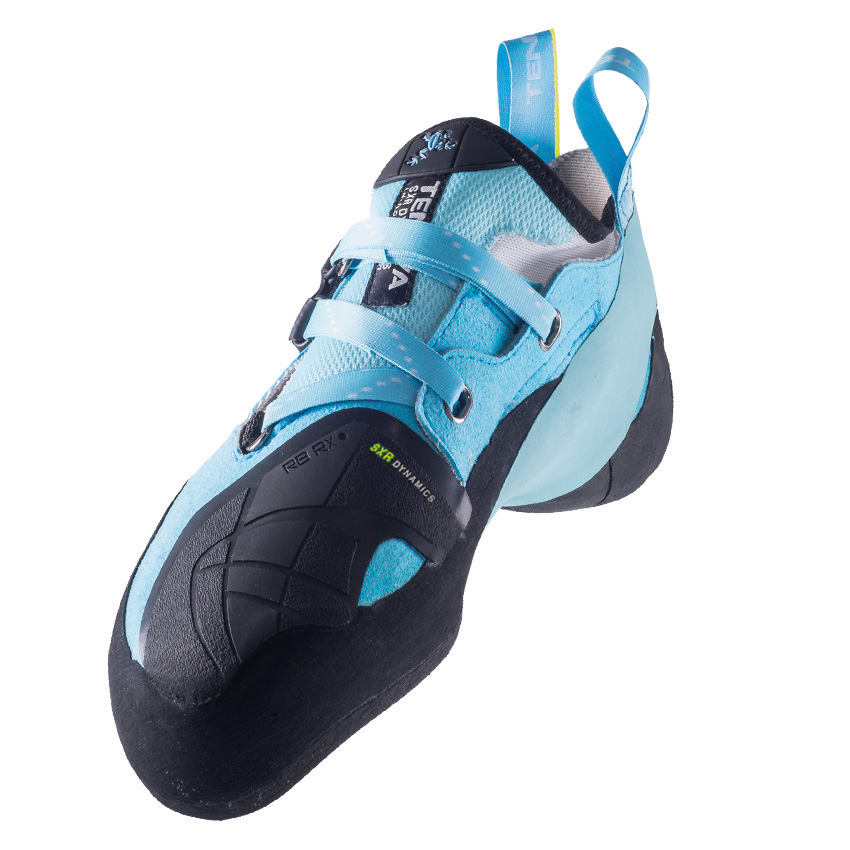 Adjustment in motion
Its curved shapes and split sole, together with SXR Dynamics and RBRX technologies, provide optimal support or yeld when the foot needs it, allowing greater freedom of movement and helping the foot movements follow each other in a natural way and with greater precision.


More control and sensitivity
Indalo's 3.5mm rubber outer sole interacts with a four micro-layer insole of different materials to let you feel every little nuance of the rock surface and transfer the power to exactly where it's needed. In addition, the high angle toe box proves extraordinarily effective for thin cracks and shallow pockets.
It all contributes to narrowing the distance between you and the rock so you can maintain maximum control and reliability on the most demanding holds.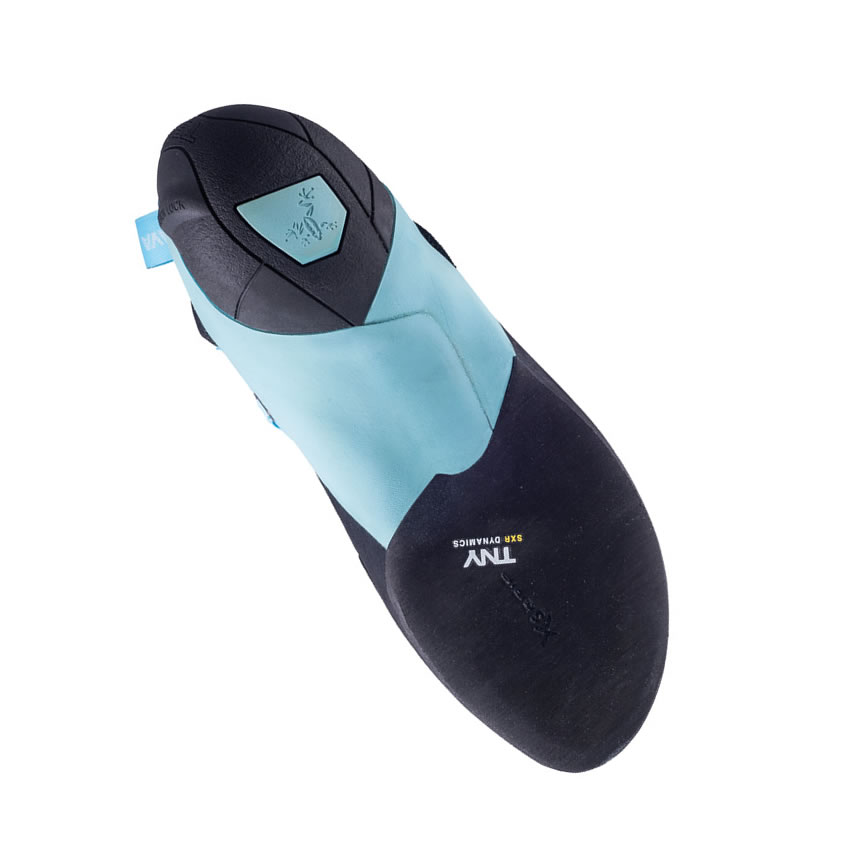 Six different formulas of rubber
The upper part of the toe box is coated in super-sticky rubber, we have played with different volumes for better performance for difficult toe-hooking situations, while still offering high levels of abrasion resistance.
The heel section of the shoe incorporates our Friction Lock technology and features two different densities of rubber allowing us to play with the volumes and thicknesses that surround this part of the foot to achieve and increase heel-hooking performance.
DRAXTOR.
If you prefer Velcro closure shoes, trust in Draxtor. Patented by Tenaya, Draxtor allows secure closure in just a single movement and is the only closure of its kind where you can control the levels of tightening at the front and back of the shoe.

To focus only on climbing.
As in other models of the Aerial Plus Line, also in the design and development of Indalo has been always considered comfort as an indispensable objective. Everything is carefully calculated and closely related so that you can focus only on climbing and have maximum comfort in a high-performance shoe.